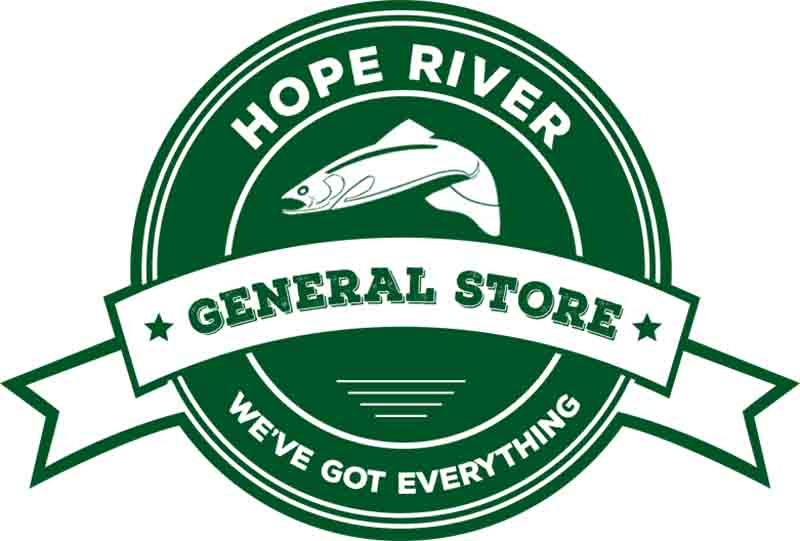 We've Got Everything!
Hope River General Store is a family owned business that was established in 2001 and has grown over the years to become a favourite stop in the Fraser Canyon for locals and visitors alike. Among its many offerings, the store has a great gift shop, as well as a restaurant which is famous for their local smoked salmon sandwiches. In the summer months they are best known for offering local sockeye salmon (when in season) and their complementary salmon BBQ on July 1st. Daily specials, real milkshakes, a salmon sandwich on your choice of toasted bun and lots of food fare to delight the discerning palate. 

  In-Store Bakery & Deli

  Large Selection of Ice Cream

  Gift Shop

  Wild Smoked Salmon & Famous Indian Candy

  Fresh Fruit & Produce

  Large Picnic & Rest Area

  Fresh Wild Sockeye Salmon (seasonal)

  Fishing Bait (seasonal)

  Aboriginal Arts & Crafts

  ESSO Gar Bar
I needed a drink and here is a unique place to stop! It has an amazing gift section! Gifts specifically from local First Nations, Canadian artists, fair trade from Africa and more! Expansive selections and great customer service.
This is the best place in the Fraser Canyon or gas, delicious meals and snacks, as well as a wide variety of First Nation gifts. They also carry a few of your basic groceries. Excellent deli and lots of local fruit when in season. They also have the best smoked and candied salmon anywhere. Plenty of parking and excellent customer service from all the friendly and polite staff. I'm sure you find this is not your average gas station.
Best place to get fresh fruit and salmon. The store has a crazy amount of various goods. Definitely check it out if you're anywhere near!
Great store! Rustic wood decor. Huge selection of fresh and preserved snacks. Groceries, ice cream cones, deli/cafe, gift shop, smoked salmon (professionally packed).

Emory Bar RV Park
28775 Trans Canada HWY
Hope, British Columbia V0X 1L3
Phone: 604-863-2407 / 604-863-0033
Beautiful little place. The campsite is very well maintained, managed and cleaned. Bathrooms with showers. Full hookups at a very low rate. My family and I have an excellent time every time we go. Never had any kind of issues. And the store is right there with everything you could think of. Even a restaurant and liquor sales!
- Jamie Schellenberg
Nice little RV park, with all the usual amenities, the store is super well stocked and the staff were super friendly and helpful. No problem recommending this place.
We have driven by here many times and always wondered about this place. I am really happy that we decided to stay this time. Well laid out, roomy sites, the entire campground was very clean and super friendly staff. Will definitely stay here again.